One moment, a quote is being generated for you.
Print Quote
Managed IT Plan Calculator
Cybersecurity
?
What is a Firewall?
Why Firewall Management is important?
Once a firewall is installed and configured, regular firewall audits at a minimum on quarterly basis is important to protect your data and communications. Quarterly audits increase the probabilities of catching any vulnerabilities in your network's. Additionally firewall rules must be changed/updated to accommodate your growing business needs. The system that supports the firewall must be properly maintained. The network administrator should create a list of all field replaceable components for this system. Once this list is compiled, the components should be located in a safe storage area so that in the event of a system failure the components can be readily available. An ideal situation would be to have a totally redundant firewall system so that in the event of primary system failure, security would not be compromised.
Active firewall subscription is a critical component in order to maintain proper security standards, during the maintenance term we make sure you have the proper licenses and subscriptions to actively protect your network.
X
Close
?
Dark Web
Don't be blindsided by your company's dark web data.
With more and more data breaches happening every day, it's likely your company's information is being sold on the Dark Web. We will search the Dark Web for compromised credentials associated with your domain. Let's stop a breach BEFORE it happens.
We put security first.
We perform a monthly security assessment that analyzes your business' dark web presence, simulated phishing response, and security awareness training scores to provide you with an overall look at your human-related security risks.
We find what's compromised
We scan the dark web based on your domain and find all accounts that have been involved in a breach. This information, including compromised credentials, is freely available on the dark web.
What would your employees do?
Having compromised information on the dark web can increase your risk of receiving a phishing email. See what your employees do when sent a fake phishing email and assess your human vulnerabilities.
Remediation with education
We can provide you with engaging, video-based security awareness training. Educate your employees on the risks they face so you can help them better protect themselves and your business.
But why?
The main aim of providing 24/7 IT support is to offer users, partners an easy way to communicate with IT support team. You can reach us with multiple communication mediums like Telephone, Email, Web Chat and a Ticketing Portal etc.?
X
Close
?
What is Administered Phishing Awareness Campaigns?
X
Close
?
What is MDR?
Managed Detection and Response
(MDR) denotes outsourced cybersecurity services designed to protect your data and assets even if a threat eludes common organizational security controls.
X
Close
?
Enterprise Password Manager
X
Close
?
Advanced Spam filtration System
X
Close
?
Application Allowlisting and Ringfencing
X
Close
Backup Service
?
What is Backupify O365 backup?
X
Close
?
What is SharePoint Site Backup?
X
Close
?
Local Server Offsite Backup - Up to 1TB
X
Close
?
What is Local Computer Image Based Backup?
X
Close
Local Network
?
Local Server Maintenance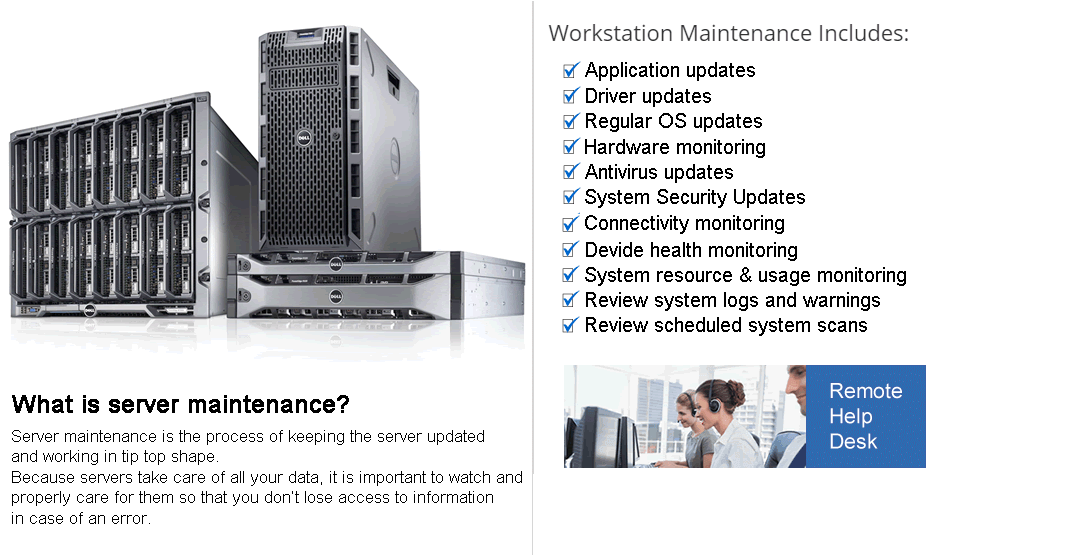 X
Close
Helpdesk Avalability
?
Does your company need your IT helpdesk to be available 24 x 7 x 365?
24/7 IT support facilitates resource around the clock. There are many perks of having 24/7 IT helpdesk as your back up. With our 24x7 addon we provide IT helpdesk services 24x7x365, even on public holidays and do not leave you without assistance.
24/7 IT support service achieves the following.
Customer satisfaction at the best
Providing IT support to your users when they are in absolute need of it. A happy employee tends to remain loyal and will be able to finish their work on time.
Easy access to technical support
Users who need IT support at anytime, anywhere and any place can easily reach out to the dedicated IT helpdesk via telephone, email, webchat, support portal etc.
Cost-effective strategy
There is no doubt that your IT costs/budgets will be less. Hiring a 24/7 IT support helpdesk, you would be only paying for the services you opt. There will be no hidden costs. Additionally, you will get stable proactive support and maintenance.
Unlimited IT Support
There is a ticketing system and help desk portal is available for each employee. Using these, the users can reach out to get their issues resolved. A dedicated IT support team will always be monitoring the incoming tickets and will resolve the issues promptly. Instant response is the highlight of 24/7 IT support services.?
Reduced downtime
A proper IT infrastructure is essential for any business. Infrastructure is like a domino. If your infrastructure gets a hit, then the impact would be really worse. 24/7 IT service helpdesk ensures to design your IT infrastructure that would increase employee productivity focusing mainly on minimizing the IT downtime.
Multiple communication mediums
The main aim of providing 24/7 IT support is to offer users, partners an easy way to communicate with IT support team. You can reach us with multiple communication mediums like Telephone, Email, Web Chat and a Ticketing Portal etc.?
Flexibility
Consider you have customers around the globe, and you run night shift to meet the demand of your products and services, then having a 24/7 IT support service is invaluable.?
X
Close
Microsoft
?
Reimagine productivity with Microsoft 365 and Microsoft Teams
What is Microsoft 365 Business Premium?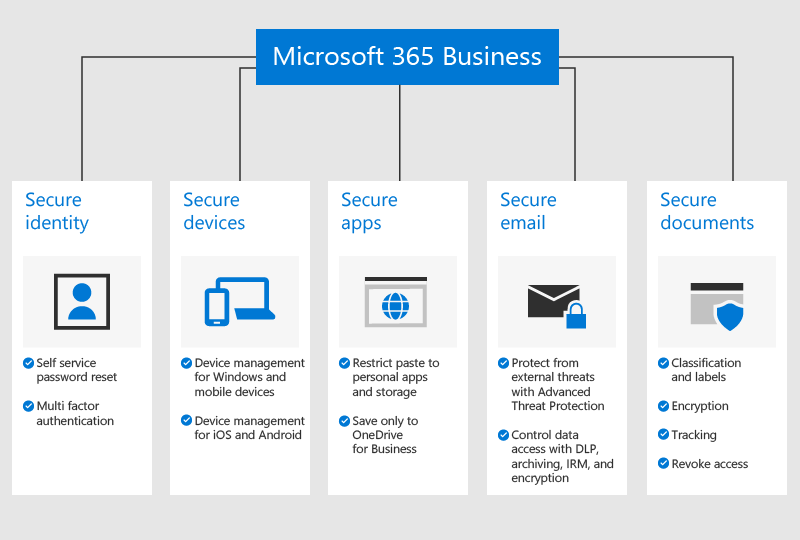 For detailed description please click here. The key components are:
Microsoft Online Services, including SharePoint, Online Exchange, Teams, OneDrive and many more
Microsoft Office Applications such as Word, Excel, PowerPoint etc. for Windows, Mac, iOS and Android
Long-term archiving for exchange, Encryption, In Place & Litigation hold & eDiscovery
Advanced Threat Protection (ATP), Advanced Information Protection & Data Loss Prevention
Microsoft EndPoint Manager for connected devices, Intune Mobile Device Management & AutoPilot device deployment
Simplified deployment with Windows AutoPilot
Enterprise State Roaming for Windows 10 with Azure AD join
Why it is important to you?
With the standard productivity applications and services used daily in organizaitions, you get access to a suite of Microsoft's ever evolving cloud-based security and management tools. With expert assisted setup these tools can:
Help secure and protect your business from the ever-increasing volume of cybersecurity threats out there today.
Manage your employee's user accounts, applications, devices and your data in world where your network and applications sprawl well beyond the company firewall.
Conditional access: Block access to your company resources and data to anyone outside your country.
Enforce multifactor authentication (MFA) for all your users
SLA 99.9%
Simplified device deployments deployment with Windows AutoPilot
Deploying device profiles and security configuration5
Windows 10 devices kept up-to-date automatically
Help protect files and folders on PCs from unauthorized access with Bitlocker
X
Close
We are happy to answer
your questions.
414-622-1000
IT Helpdesk + Cybersecurity
$0
Microsoft 365 subscription
$0
I want I.T.
X
| Remote Helpdesk And Support | ✓ |
| --- | --- |
| Helpdesk Hours M-F 9 AM-5 PM | ✓ |
| Line Of Business Apps Technical Support | ✓ |
| Manage Networking | ✓ |
| Dedicated Account Representative | ✓ |
| General Application Updates | ✓ |
| Driver Updates | ✓ |
| Regular Windows Updates | ✓ |
| Hardware Monitoring | ✓ |
| Antivirus Updates | ✓ |
| System Security Updates | ✓ |
| Connectivity Monitoring | ✓ |
| System Resource Monitoring | ✓ |
| Review Scheduled System Scans | ✓ |
| Sharepoint Support/Maintenance | ✓ |
| Dark Web Monitoring | ✓ |
| User Login Logs Are Stored For 30-Days | ✓ |
| Managed Firewall | ✓ |
| Device encryption for company owned desktops and Laptops | ✓ |
| Basic Email Security | ✓ |
| Quarterly IT Reviews | ✗ |
| Weekly System Review And Updates | ✗ |
| Sharepoint Site Backup | ✗ |
| Backupify O365 Backup | ✗ |
| Administered Phishing Awareness Campaigns | ✗ |
| Security - Manage, Detect And Respond - MDR Software. | ✗ |
| Enterprise Password Manager | ✗ |
| User Login Logs Are Stored For Up To 1-Year | ✗ |
| DNS Filtering | ✗ |
| Security Awareness Training | ✗ |
| Advanced Spam Protection | ✗ |
| Identity Security | ✗ |
| Corporate Device Security | ✗ |
| BYOD - Personal Device Security | ✗ |
| Document Security | ✗ |
| Quaterly Device Compliance Review | ✗ |
| Application Allowlisting and Ringfencing | ✗ |
| Advanced Email Security | ✗ |
X
| Remote Helpdesk And Support | ✓ |
| --- | --- |
| Helpdesk Hours M-F 9 AM-5 PM | ✓ |
| Line Of Business Apps Technical Support | ✓ |
| Manage Networking | ✓ |
| Dedicated Account Representative | ✓ |
| Quarterly IT Reviews | ✓ |
| General Application Updates | ✓ |
| Driver Updates | ✓ |
| Regular Windows Updates | ✓ |
| Hardware Monitoring | ✓ |
| Antivirus Updates | ✓ |
| System Security Updates | ✓ |
| Connectivity Monitoring | ✓ |
| System Resource Monitoring | ✓ |
| Weekly System Review And Updates | ✓ |
| Review Scheduled System Scans | ✓ |
| Sharepoint Support/Maintenance | ✓ |
| Sharepoint Site Backup | ✓ |
| Backupify O365 Backup | ✓ |
| Dark Web Monitoring | ✓ |
| Administered Phishing Awareness Campaigns | ✓ |
| Security - Manage, Detect And Respond - MDR Software. | ✓ |
| User Login Logs Are Stored For 30-Days | ✓ |
| User Login Logs Are Stored For Up To 1-Year | ✓ |
| Managed Firewall | ✓ |
| Device encryption for company owned desktops and Laptops | ✓ |
| Corporate Device Security | ✓ |
| BYOD - Personal Device Security | ✓ |
| Document Security | ✓ |
| Basic Email Security | ✓ |
| Enterprise Password Manager | ✗ |
| DNS Filtering | ✗ |
| Security Awareness Training | ✗ |
| Advanced Spam Protection | ✗ |
| Identity Security | ✗ |
| Quaterly Device Compliance Review | ✗ |
| Application Allowlisting and Ringfencing | ✗ |
| Advanced Email Security | ✗ |
X
| Remote Helpdesk And Support | ✓ |
| --- | --- |
| Helpdesk Hours M-F 9 AM-5 PM | ✓ |
| Line Of Business Apps Technical Support | ✓ |
| Manage Networking | ✓ |
| Dedicated Account Representative | ✓ |
| Quarterly IT Reviews | ✓ |
| General Application Updates | ✓ |
| Driver Updates | ✓ |
| Regular Windows Updates | ✓ |
| Hardware Monitoring | ✓ |
| Antivirus Updates | ✓ |
| System Security Updates | ✓ |
| Connectivity Monitoring | ✓ |
| System Resource Monitoring | ✓ |
| Weekly System Review And Updates | ✓ |
| Review Scheduled System Scans | ✓ |
| Sharepoint Support/Maintenance | ✓ |
| Sharepoint Site Backup | ✓ |
| Backupify O365 Backup | ✓ |
| Dark Web Monitoring | ✓ |
| Administered Phishing Awareness Campaigns | ✓ |
| Security - Manage, Detect And Respond - MDR Software. | ✓ |
| Enterprise Password Manager | ✓ |
| User Login Logs Are Stored For 30-Days | ✓ |
| User Login Logs Are Stored For Up To 1-Year | ✓ |
| Managed Firewall | ✓ |
| DNS Filtering | ✓ |
| Device encryption for company owned desktops and Laptops | ✓ |
| Security Awareness Training | ✓ |
| Advanced Spam Protection | ✓ |
| Identity Security | ✓ |
| Corporate Device Security | ✓ |
| BYOD - Personal Device Security | ✓ |
| Document Security | ✓ |
| Quaterly Device Compliance Review | ✓ |
| Application Allowlisting and Ringfencing | ✓ |
| Basic Email Security | ✓ |
| Advanced Email Security | ✓ |
X
Managed IT Services - Per User
X